Over voltage protection device UZM-51MD
| | |
| --- | --- |
| UZM-51MD AC230V UHL4 | 2643.00 руб. с НДС |
| UZM-51MD AC230V UHL2 | 3648.00 руб. с НДС |
Arc Fault circuit interrupter (AFCI) = Arc Fault device detector (AFDD)

Protection from arcing and dangerous spark in the wiring

Two-threshold overvoltage protection
Two-threshold undervoltage protection
Built-in protection from impulse spikes line voltage
Nominal/maximum switching current is 63A/80A at 250V
Operates over a wide supply voltage range - 0...440V
AN EXAMPLE OF THE ARC IN THE WIRING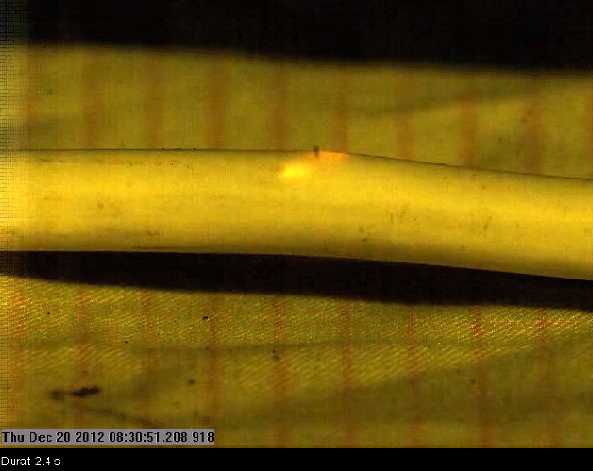 Network
failure and
possible means of protection
Accident types

Possible reasons

Possible consequences

without protection

Possible means of protection

Consistent arc

- Bad contact at the wall outlet
- Bad contact in screw connections
- Damaged wire

UZM-51MD

Parallel arc

- Damaged/insufficient insulation wires
- Water ingress into open contacts

MCB + UZM-51MD

Parallel arc to the ground

- Damaged/insufficient insulation wires
- Water ingress into open contacts

RCD + UZM-51MD

Power surge

- The accident at the КТП
- Open ground from КТП to consumers
- Error electrician at repair

Failure of electrical equipment & ignition

 

UZM-51MD

Voltage dip

- The accident at the КТП
- Open ground from КТП to consumers
- Error electrician at repair

Failure of electrical equipment (air conditioners, compressors, pumps, refrigerators)

UZM-51MD

Voltage pulse

- Consequences of remote lightning discharge
- Switching the disturbance

Failure of electrical equipment

УЗИП III or UZM-51MD
Types of failures in the networks and means of protection from them
Types of  failures/Protection device
UZM-51MD
UZM-51M
RCD

The differential

circuit breaker

MCB
УЗИП III
Consistent arc
+
 
 
 
 
 
Parallel arc
+
 
 
 
 
 
Parallel arc to the ground
+
 
+
+
 
 
Power surge
+
+
 
 
 
 
Voltage dip
+
+
 
 
 
 
Overvoltage pulses
+
+
 
 
 
+

The leak

current

to the ground

(

human

protection from

electric shock

)

 
 
+
+
 
 

Over current

(short circuit

)

 
 
 
+
+
 

Over current

(

fixed threshold

with a delay

)*

+
 
 
 
 
 
* Model UZM-51MDT with fixed current setpoint 2 to 63A
 The protection device arcs UZM-51MD (further - AFCI) is designed to detect arcing events (sparks) in the wiring, as well as to disable equipment with a decrease and increase in the single-phase AC voltage networks. Protects equipment connected to it (in an apartment, office, etc.) from the damaging action of pulsed power surges caused by triggering of closely spaced and connected to the same network of electric motors, magnetic starters, or electromagnets, thereby preventing the equipment damage and possible fire, followed by fire .
 The device represents a voltage control relay with a powerful electromagnetic relay at the output, supplemented varistor protection and combined with a protection device from the arc (AFCI). The unit case is made of ABS plastic, which does not support combustion (UL-94V0). The device is mounted on a DIN rail width 35 mm (GOST R MEC 60715-2003) with a front connecting wires power switched circuits. Terminals tunnel construction provides a reliable clip wires to the total cross section up to 35mm2.
 The front panel of UZM-51MD has two indicator two-color (green/red) "norm-accident" and the two-color (yellow/red) "relay-arc", manual override, knob adjustment of the upper and lower disconnection thresholds. Diagram, curcuit connection and the dimensions shown in the illustrations below.
| | | | | | |
| --- | --- | --- | --- | --- | --- |
| Arc current, А | 2,5 | 5,0 | 10 | 16 | 32 |
| Disconnection time, s | 1,0 | 0,5 | 0,25 | 0,15 | 0,12 |

SPECIFICATIONS OF THE UZM-51MD

A parameter

Unit

UZM-51MD

Protection parameter

Level of the voltage limit at the interferecne current 100А, not exceeds

kW

1,2

The maximum absorption energy (single pulse of 10/1000microseconds)

J.

200

The maximum absorption current single pulse 8/20/repeating pulses 8/20 microseconds

А

8000/6000

Actuction time of protection from pulse action

ns

<25

Threshold of load disconnection at increase voltage, Utop

V

240, 250, 255, 260, 265, 270, 275, 280, 285, 290

The upper threshold of accelerated load disconnection when the voltage is above the upper critical threshold, Utop.critical

V

300 ± 15

Threshold of load disconnection at decrease voltage, Ulow

V

210, 190, 175, 160, 150, 140, 130, 120, 110, 100

The lower threshold of accelerated load disconnection when the voltage is below the lowerr critical threshold, Ulow.critical

V

80± 10

Hysteresis of return the upper and lower threshold of the established value

%

3

Power supply

Rated supply voltage

V

230

Frequency of supply voltage

Hz

50

Maximum supply voltage

V

440

Power consumption

VA

1,5

Consumption of electricity

W*h

1,5

Switching capacity of contacts

Rated load current (at the section of connected conductors not less than 16mm², copper)

A

63

Rated power of load (AC250V)

kW

14,5

The maximum load current (active AC1,30min)

А

80

The maximum load capacity (AC250V-AC1,30min)

kW

20,0

The maximum allowable short-circuit current

A

4500

Technical data

Delay on/reclosing, user selectable

 

6min/10s

The delay of accelerated off the upper critical threshold

ms

20

The delay of accelerated off the low critical threshold

ms

100

The delay off when the voltage is above the upper threshold

s

0,2

The delay off when the voltage is below the lower threshold

s

10

Cross-sectional wiring of not less than

mm²

0,5-25 (20-4 AWG)

Dimensions

mm

83х35х67

The degree of pollution in accordance with GOST 9920-89
 
2

Class of protection relay at case level/terminal level

 

IP40/IP0

Operating temperature range (different versions)

0C

-25…+55 (UHL4)

-40…+55 (UHL2)

Storage temperature

0C

–40...+70

Immunity to interference from bursts in accordance with GOST R 51317.4.4-99 (IEC/EN 61000-4-4)
 
level 3 (2kV/5kHz)
Immunity to interference over voltage in accordance with GOST R 51317.4.5-99 (IEC/EN 61000-4-5)
 
level 3 (2kV А1-А2)
Relative humidity of air
%
up to 80 (at 25ºC)
Height above sea level
m
till 2000
Operating position in space
 
arbitrary
Mode
 
round the clock
Weight, not more
kg
0,16

Service life, not less than

years

10
DIAGRAM OF OPERATION DEVICE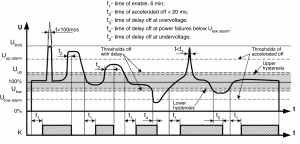 CIRCUIT CONNECTION OF DEVICE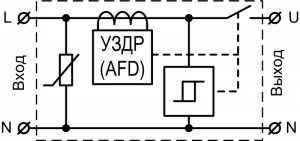 DIMENSIONS OF THE DEVICE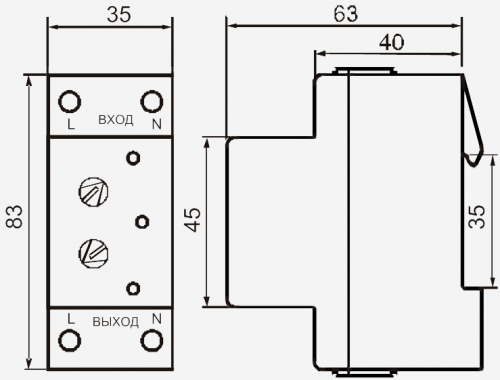 Title

Order code

File to download

(manual)

File date

UZM-51MD UHL4

4640016938285

Download

v03.04.16

UZM-51MD UHL2

4640016938927
English